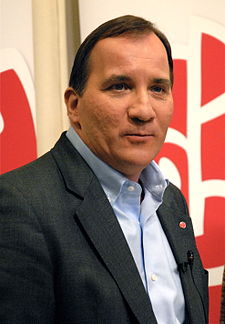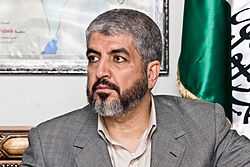 Socialdemokraternas partiledare har nyligen besökt Hebron. Tidningen di.se intervjuar. Så här säger Löfven (t.v. Foto: Frankie Fouganthin):
"Det är först när man är på plats som man förstår regionens komplexitet och det djävulska i Israels systematiska uppdelning av människor. På den nyasfalterade gatan i Hebron fick bara ­israeler gå medan palestinierna fick gå på den skitiga kostigen bakom en mur bredvid. Det är ­inget annat än ett förbannat apartheidsystem!"
Jaså.
Jag läser här om en nyligen genomförd opinionsundersökning i "Palestina". Resultatet var att 87,7 procent av de palestinska araberna stöder Hamas' terror mot Israel:
From the latest AWRAD poll we see this question:

"The results of the recent Gaza conflict prove that armed struggle, as adopted by Hamas, is the best means of achieving Palestinian independence"

Among all Palestinian Arabs, 55.6% said they "strongly agree" and 32.1% said they "agree."

In the "moderate" West Bank, the percentage that agreed was 86.4%.

Rockets aimed at civilians are nothing less than terrorism. Which means that Palestinian Arabs overwhelmingly support terror.

Källa. – Gå till statistikdelen, sid 4, som även kan laddas ned härifrån (doc).
Med den inställningen kanske de inte förtjänar annat än kostigar, kan man tycka …
Här är en skylt från Hebron med några judiska kommentarer: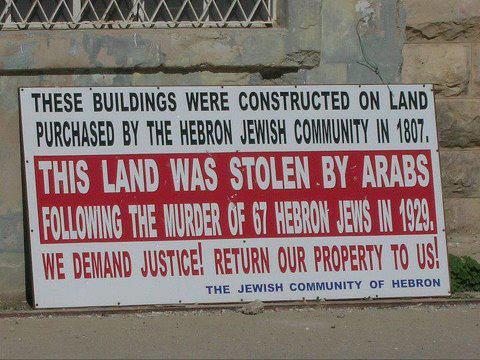 Den gången år 1929 evakuerades samtliga judar från Hebron, dvs. de som undgick att mördas alltså. Hebron blev judenrein. Och deras egendom, enligt skylten köpt redan år 1807, hur gick det med den? Det verkar inte som de fått den tillbaka än i alla fall.
Djävulskt eller …
Här ett foto från Hebron taget för några år sedan. Hakkorsflaggan blåser: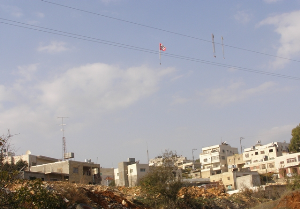 Och här en närbild:



Närmast hämtade ur en min bloggning från den tiden (2008).
Djävulskt eller …
Nå. Närmare nio av tio palestinska araber tycker alltså – om resultatet av opinionsundersökningen kan anses generellt giltigt – att Hamas "väpnade kamp", vilken som alla vet syftar till att utplåna Israel, den är bästa sättet att uppnå självständighet.
Man frågar sig då hur djävulskt det i Löfvens ögon är att genom anfallskrig utplåna Israel och fördriva alla judar, något som Hamas' vill. Något som tydligen nästan nio av tio palestinska araber stödjer?
Vad för slags förbannad "apartheid" inträder då, när inte bara Hebron utan hela "Palestina" blivit judenrein?
En berättigad fråga att ställa till Löfven eller hur!
Men Löfven tycker att det bara är vad Israel gör som är "djävulskt" och förbannar bara det.
Hans partikamrat Urban Ahlin har i Sveriges riksdag uttalat att "Hamas är en del av lösningen", varvid han märkvärdigt nog ordagrant återgav Hamas-terroristen Khaled Mashaals ståndpunkt (foto ovan t.h.).
Och Hamas' lösning, ja den är ju den redan återgivna: Israel ska utplånas och judarna fördrivas. Denna lösning tycks alltså en socialdemokrat i Sveriges riksdag vara för!
Djävulskt eller …
Partikamraten Ulf Bjereld menar dessutom att man ska tala med Hamas, detta trots att Hamas avvisar samtal som en verksam metod att utplåna Israel.
För övrigt kan noteras att al-Fatah, som är socialdemokraternas systerparti, också vill utplåna Israel.
Djävulskt eller …
Innan Löfven förbannar enbart Israels åtgärder borde han nog närmare begrunda vad den anfallande motståndarsidan, t.ex. Löfvens systerparti, egentligen vill åstadkomma. Det är nämligen något ännu värre. I deras mardrömsvärld kommer det inte ens att finnas kostigar för judarna i "Palestina", det är alldeles uppenbart. Om de får som de vill kommer det nämligen inte att finnas några judar där alls.
Men Lövfen han silar mygg och sväljer kameler, precis som FN, EU, Sveriges regering och Carl Bildt …
Extremt oroande, för att citera Bildt. Närmast djävulskt. Eller …
– Slutligen kan noteras att enligt en tidigare opinionsundersökning tyckte 73 % av de tillfrågade palestinska araberna att hadithen som talar om att judarna som gömmer sig bakom stenar och träd ska dödas, ja den är helt OK! – Lite djävulskt det också, kanske? Eller vad säger Löfven?