"Fredsprocessen är död. Låt den vila i frid"
Så lyder rubriken på en artikel i Middle East Forum, författad av Jonathan Spyer.
Spyer upprepar här vad som vid detta laget får anses uppenbart: Alltför många palestinska araber är inte och har alltför länge absolut inte varit intresserade av att åstadkomma en fred med Israel. Deras huvudsakliga intresse är och har varit att utplåna Israel. Spyer exemplifierar med al-Fatah, ett ord som betyder "erövringen":
[T]he Fatah movement, headed by Palestinian Authority Chairman Mahmoud Abbas, is simply not interested in exchanging its historic goal of reversing the verdict of 1948 for the establishment of a small Palestinian state in the West Bank.

This is the reason why it has refused every concrete proposal to end the conflict along these lines – from the Clinton proposals of 2000, via then Prime Minister Ehud Olmert's plan in 2008, to the recent refusal by Abbas to declare that any agreement reached would mark an end to the conflict and to further Palestinian claims.

The volume of proof supporting this contention is now so enormous that it is truly astonishing that this point needs to be made. But illusions die hard, apparently.
Spyer fortsätter:
On a deeper level, this unusual refusal to compromise with reality derives from the movement's Islamic roots (the very name 'Fatah' derives from a Koranic term meaning 'Islamic conquest), which make it unimaginable that land once possessed by Muslims or Arabs can be accepted as having passed to another sovereignty. This process is experienced as particularly humiliating when the other sovereignty in question is that of a traditionally despised people, the Jews, rather than some mighty foreign empire.
Hans konklusion är följande:
So the very nature of the Palestinian political culture developed by Arafat and his colleagues precludes the conclusion of an agreement based on partition. But even if it did not, there is no single 'pen' with the authority to sign such an agreement on behalf of the Palestinians.

Israel will and should continue to make clear to both the PA leadership and to Jordan that it is willing to reach a solution based on partition with appropriate security guarantees, or a long term interim accord if this proves impossible.

Neither outcome looks imminent, however. Many Palestinians and the many western supporters of the Palestinian cause are convinced that the gradual international delegitimization of Israel is the key to final strategic victory over the Jewish state and the reversal of the verdict of 1948. This is an illusion. But it will need to work itself through, like the illusions that preceded it.

When it has, sadly, it is likely to be replaced by a new illusion. Thus the reckoning with the reality of Jewish peoplehood and sovereignty will continue to be avoided, and the Palestinian politics of subsidized fantasy will continue.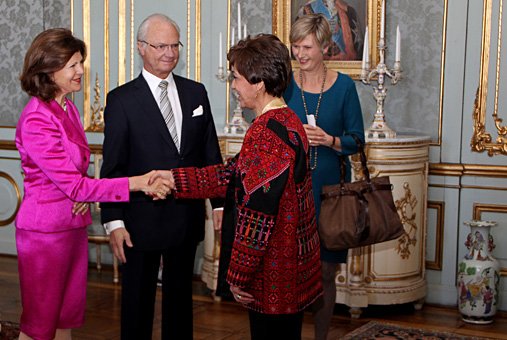 Slutsatsen är den att det pågående försöket från många palestinska araber och deras västerländska supportrar att delegitimera Israel i syfte att utplåna Israel inte kommer att lyckas. Men denna illusion kommer att ersättas av andra. De palestinska araberna kommer att undvika att acceptera judarna som folk och den judiska statens suveränitet, och den palestinska subsidierade illusionen kommer att bestå.
Vi ska således inte tro att de palestinska arabernas majoritet någonsin kommer att acceptera Israels existens. Vi ska inte tro att den palestinska myndighetens försök att bli erkänd som stat har som syfte att leva i fred med Israel. En palestinsk stat till – vid sidan av "Östpalestina" dvs. Jordanien – kommer aldrig att erkänna Israels rätt att existera.
Men dessa försök röner ändå viss framgång. Till exempel har ju Sveriges regering ansett att den palestinska myndighetens representant i Sverige är en ambassadör (se foto till vänster när HM Drottningen handhälsar på denna person – källa), samt har därjämte inte haft några problem att år ut och år in ge just subsidier till – om kanske inte avsett så dock de facto – stöd för de palestinska arabernas illusion att det är möjligt att utplåna Israel.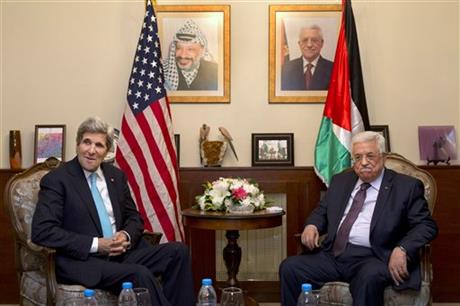 USA:s utrikesminister John Kerry (här ses han tillsammans med Mahmoud Abbas under foto av ärketerroristen Arafat – källa) har nyligen dessutom lagt skulden på Israel för att de pågående "fredssamtalen" inte varit framgångsrika, detta trots de överväldigande bevisen på att det är de palestinska arabernas majoritet och den arabiska sidan som fortfarande är de som inte alls önskar en fred med Israel. De önskar en fred utan Israel.
När såväl Sveriges som USA:s regeringar uppenbarligen gjort sig till lydiga redskap (nyttiga idioter?) – vilket de verkligen inte är ensamma om i världen – för de palestinska arabernas strävan att upprätthålla illusionen, ja då finns det nog inte mycket hopp om att någon tillnyktring kommer att ske i närtid.
Och de som egentligen drabbas mest av detta är – de palestinska araberna. Men många av dem väljer uppenbarligen att hellre sträva efter att utplåna Israel, ja tom. att dö i den strävan, än att försöka bygga ett liv i fred och välstånd tillsammans med Israel.
Det är förvisso deras eget fria val. Och det får sina logiska konsekvenser. Det får de leva – och dö – med. Något de uppenbarligen är beredda att göra länge till. De har alltså valt sitt eget elände. Detta val är inget man kan anklaga eller skuldbelägga Israel eller judarna för. Om man gör det är man antisemit.
Länk: 85 % av de palestinska araberna stöder terror.
Comments
Write a comment