I dag är påven i Betlehem
Hans program för dagen kan du läsa här.
Så här såg det ut när jag var i Betlehem år 1976. Det är Omar-moskén du ser på den första bilden; födelsekyrkan finns bakom fotografen. Tyvärr blev det ingen exteriörbild på kyrkan. Men bild två nedan visar i alla fall ett försök till interiör. – Väldigt många FN-soldater är det överallt …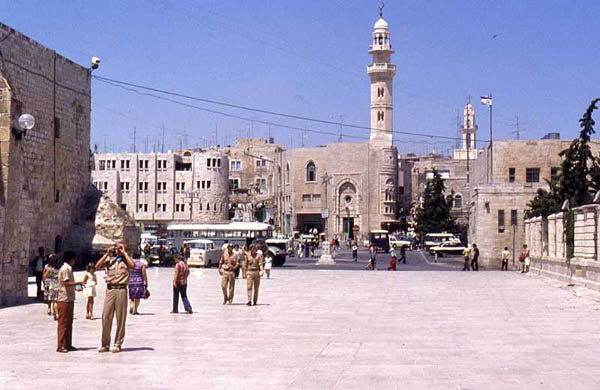 Det finns fler kyrkor i Betlehem – du ser t. ex. en till bakom moskén på den första bilden – men fler muslimer än kristna. Och de kristna blir dessutom allt färre. Vad nu det kan bero på …
Så här sade påven idag i Betlehem där på torget du ser på första bilden: "Mangers Square"- fast kanske inte på engelska:
In God's plan, Bethlehem, "least among the clans of Judah" (Mic 5:2), has become a place of undying glory: the place where, in the fullness of time, God chose to become man, to end the long reign of sin and death, and to bring new and abundant life to a world which had grown old, weary and oppressed by hopelessness.

For men and women everywhere, Bethlehem is associated with this joyful message of rebirth, renewal, light and freedom. Yet here, in our midst, how far this magnificent promise seems from being realized! How distant seems that Kingdom of wide dominion and peace, security, justice and integrity which the Prophet Isaiah heralded in the first reading (cf. Is 9:7), and which we proclaim as definitively established in the coming of Jesus Christ, Messiah and King!
Källa.
Detta magnifika löfte, ja. Vad ska det bli av det egentligen? Fred, säkerhet, rättvisa. Fast kanske inte för de kristna i Betlehem. Varför skulle de annars lämna? Avlägset är detta rike, i många bemärkelser.
***
Läs även andra bloggares åsikter om kristna, muslimer, Palestina, religion, Israel, Betlehem, Omar-moskén, påven, födelsekyrkan
Comments
Write a comment