Wallström nummer åtta på tio-i-botten-listan över årets värsta antisemitiska incidenter

Det är Simon Wiesenthal Center som utkorat Margot Wallström på en åttondeplats. Botten är alltså ännu inte nådd. Bättre "lycka" nästa gång! Hennes "förtjänst" är ju över/underlägsen! Tro inte att hon har gett upp sin kamp mot judestaten.
Här är hennes "citation":
Swedish Foreign Minister Margot Wallstrom flew to Israel in December despite being forewarned that no Israeli officials would meet with her. Wallstrom, whose consistently one-sided criticism of the Jewish State has outraged Israelis, said she wanted to meet with Palestinian and Israeli leaders to advance peace prospects, but Jerusalem refused to meet with her. Commenting on the violence in Israel of knife-wielding Palestinian terrorists, and measures taken by Israeli police in their wake during the so-called "Knifing Intifada", Wallstrom, called for an investigation into what she called "extra-judicial killings" by Israeli police.

Shocked by her remarks, Israeli Minister of Infrastructure, Yuval Steinitz, noted that Wallstrom singled out Israel for investigation but avoided calling out other nations – including the U.S., Russia and France – which also kill terrorists. Steinitz also pointed out that that Sweden has produced more Islamic State volunteers that any other European country. Relations between Israel and Sweden plummeted last year after Wallstrom attributed the Palestinian-Israeli conflict as a major reason for growing Islamist radicalism. A year earlier, shortly after taking the helm of her country's Foreign Ministry, Wallstrom recognized 'Palestine' as a state.
Detta är ju bara en liten del av hennes syndaregister. Naturligtvis slår hon ifrån sig genom sin pressekreterare som låter hälsa att "listan är oseriös" och att utnämningen är "en allvarlig och helt grundlös anklagelse". Men grundlöst är det väl inte. För visst har Sveriges statsledning erkänt den gentemot Israel fientliga islamonazistiska terrorentiteten "Palestina" som stat. Visst har hon kallat Israels försvar mot "palestinska" knivmördare för "utomrättsliga avrättningar". Visst har hon ställt sig bakom den antisemitiska resolutionen i FNs säkerhetsråd nyligen. Något som renderade FN årets bottenplats hos Simon Wiesenthal Centret.
Fast det går inte att förneka att detta center ibland tar miste. Som när man år 2014 placerade Sverigedemokraternas Björn Söder på listans sjätteplats. Till skillnad från Wallström hamnade Söder ganska oförtjänt på listan. Läs här vad jag då skrev om detta.
Denna gång är man dock klockren. Margot Wallström och hennes anhang är utan minsta tvekan antisemiter.
Vilket inte minst bevisas av att Wallström tagit emot en "Palestinsk" militär förtjänstorden av ärkeantisemiten Mahmoud Abbas: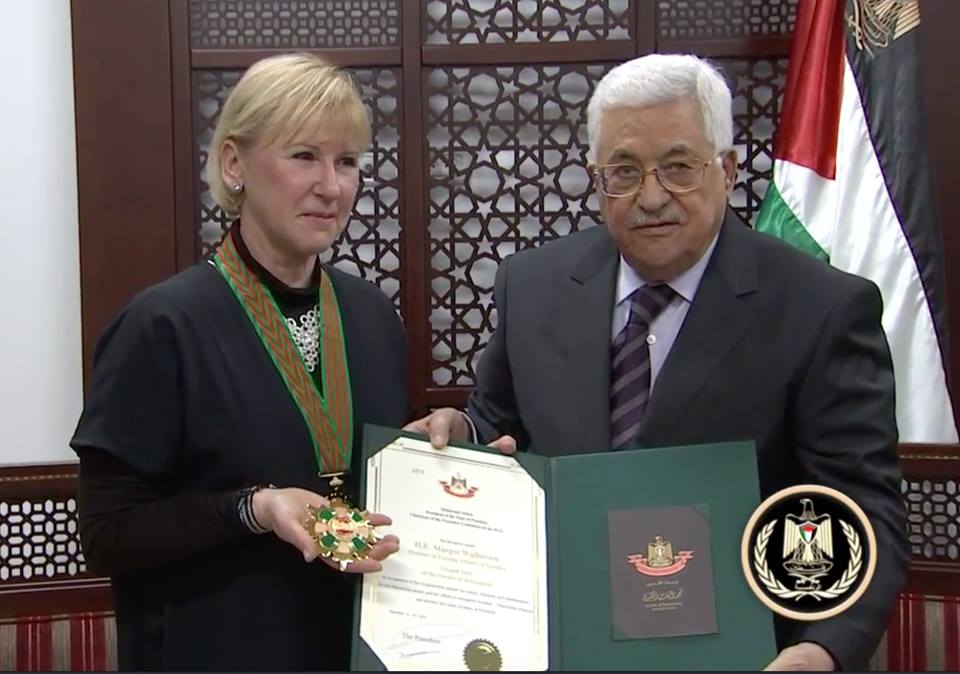 När Björn Söder utpekades tyckte Anders Lindberg i Aftonbladet att han var "en skam för Sverige" och att han skulle avgå. Han och Aftonbladet borde rimligen nu tycka samma om Wallström. Om hon, för att citera Lindberg, "haft någon skam i kroppen".
Comments
Write a comment