Nya uppgifter om vart Sveriges skattebetalares "bistånd" till "Palestina" tar vägen: Rakt i gapet på antisemiterna
Det är NGO Monitor som redovisar en del uppseendeväckande, men ändå inte förvånande rön. Rapporten kan läsas här och nedladdas härifrån (pdf).
Jag återger några "highlights":

NGO
Destructive Activities
Funding
Swedish Funding Framework
Coalition of Women for Peace (CWP)
Leader of boycott, divestment, and sanctions (BDS) campaigns
NIS 109,872 (2014)

Kvinna till Kvinna

Kvinna till Kvinna

Kvinna till Kvinna

Diakonia

Badil
Leader of BDS campaigns; rejects the existence of a Jewish state; engages in antisemitic activities
Not Disclosed
Diakonia
Sabeel
Supports a one-state framework; leader of BDS campaigns; uses antisemitic theology rhetoric
711,000 SEK
Diakonia
Alternative Information Center (AIC)
Rejects the existence of a Jewish state; supports BDS
NIS 483,860 (2013)
Diakonia
Palestinian Nongovernmental Organizations Network (PNGO)
Opposes peace talks; supports BDS
Not disclosed
Diakonia

SIDA

Physicians for Human Rights- Israel (PHR-I)
Under the guise of medical expertise and scientific fact, PHR-I promotes distorted and false narratives, aimed at demonizing Israel.
NIS 355,451 (2014)
Diakonia
B'Tselem
Regularly contributes to the international delegitimization and demonization of Israel through its politically motivated campaigns, which are characterized by repeated false or distorted factual and legal allegations, inaccurate research and skewed statistics.
NIS 124,426 (2014)
Diakonia
Association for Civil Rights in Israel (ACRI)
Active in lobbying Israeli and foreign diplomats, accusing Israel of implementing "racist," "discriminatory" and "apartheid" policies.
NIS 235,956 (2014)
Diakonia
Public Committee Against Torture in Israel (PCATI)
Promotes unverifiable allegations of Israeli torture, as the basis for politically motivated campaigns against Israel in international forums.
NIS 241,443 (2013)
Kvinna till Kvinna
Ir Amim
Promotes the Palestinian narrative of victimization. Although it has been described as "work[ing] toward coexistence in Jerusalem," an Ir Amim official was quoted as saying that the group was "seeking to advance a political agenda, and was not an organization geared to promote coexistence."
NIS 417,479 (2014)
Ministry of Foreign Affairs

Swedish Embassy

Swedish Global Conflict Prevention Pool

Terrestrial Jerusalem
Promotes a one-sided narrative to the conflict, based on Palestinian victimization and Israeli aggression.
NIS 121,467 (2013)
Kvinna till Kvinna
Om du nu räknar ihop alla dessa pengar, med beaktande av att en Israelisk shekel ungefär motsvarar två Svenska kronor lågt räknat, kan man se att Sveriges skattebetalare enbart genom att betala in skatt, visserligen med ytterligare troligt bistånd från ett antal antisemiter som aktivt betalat in stöd till dessa organisationer, enbart på detta sätt har gött antisemitismen i "Palestina" med
nästan 12,5 miljoner kronor! (12 482 396 kr närmare bestämt.)
Diakonia nämns oftast som givare, men även "Kvinna till Kvinna", SIDA, Utrikesdepartementet och Sveriges ambassad. Bland mottagarna finner vi Badil och B'Tselem som enligt rapporten framstår som mycket tvivelaktiga organisationer. Flera av dem tycks stödja BDS, en rörelse vars syfte måste anses vara att utplåna Israel.
Nåja, ytterligare drygt tolv miljoner är kanske inte så mycket att bråka om, när man betänker att Sveriges nuvarande statsledning varje år dessutom skänker 700 miljoner av svenska skattebetalares pengar till dessa antisemiter. Läs här.
Mahmoud Abbas tycks avse att bygga ett nytt presidentpalats till en uppgiven kostnad av 13 miljoner dollar. Ser fint ut: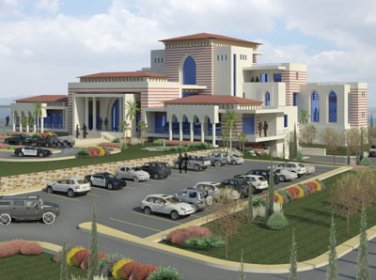 Enligt denna länk är palatset tom. redan byggt, med "Apartheid-mur" och allt. Men nja, det kanske inte är riktigt sant.
Hursomhelst: Några skyddsrum i Gaza – en brist som vissa klagade på under de senaste stridigheterna där – lär aldrig bli byggda under Hamas' och Abbas' respektive regimer. Viktigare än att skydda sin egen befolkning är av allt att döma lyxen att få bygga och bo i fina palats och få sin försörjning i övrigt ordnad av bland andra Sveriges skattebetalare. Så att man bekvämt kan fortsätta sin strävan att utplåna Israel. Med sin egen befolkning som kanonmat.
Och sannolikt används åtminstone en del av Sveriges skattebetalares pengar direkt i detta syfte. När man inte bygger palats alltså.
Jag upprepar igen att Sverigedemokraterna alltjämt är det enda riksdagsparti som vill upphöra med svenskt bistånd till antisemiterna i "Palestina". Det borde vara många fler!
Comments
Write a comment