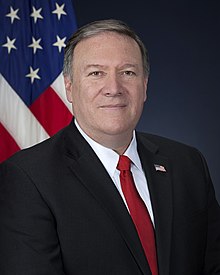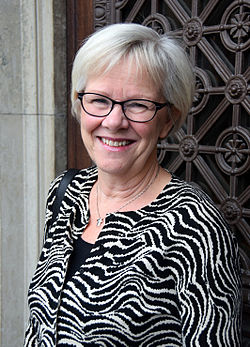 Nej det är ju alldeles uppenbart, något som jag för övrigt skrivit om här flerfaldiga gånger. För varför är skulle det vara förbjudet för judar att bo där – på den s.k. "Västbanken" – samtidigt som det är tillåtet för araber att bo i Israel? Judarna var för övrigt först att bosätta sig såväl i Judéen och Samarien som i övriga Israel.
Det var USAs utrikesminister Mike Pompeo (foto t.v.) som gjorde detta uttalande i måndags. Kritiken har varit omfattande, bland annat från Svenska kyrkan.
Svenska kyrkan tycks, genom Wanja Lundby-Wedin (S), (foto t. h.), hävda att USAs nya inställning går emot Säkerhetsrådets resolution 2334 (omedelbar pdf-nedladdning) från 23 december 2016 samt att den innebär "att inte erkänna folkrätten".
Nå, om "folkrätten" i detta fall representeras av resolution 2334 så måste jag ändå säga att denna rätt nog inte är grundad på hälleberget, utan snarare i lösan sand.
För vad står det då i denna resolution? Jo i punkten ett sägs följande:
[Säkerhetsrådet] 1. Reaffirms that the establishment by Israel of settlements in the Palestinian territory occupied since 1967, including East Jerusalem, has no legal validity and constitutes a flagrant violation under international law and a major obstacle to the achievement of the two-State solution and a just, lasting and comprehensive peace;
Jaha. Men vad är det då för brott mot vilken internationell lag som Israel gjort sig skyldigt till? Vad finns för bevis? Därom tiger säkerhetsrådet. Enligt svensk rätt är det att utpeka någon som brottslig utan att presentera bevis i sig ett brott. I svensk rätt kallas brottet "falsk tillvitelse".
Uttalandet liknar dessutom en islamistisk fatwa, liknande den som riktades mot Salman Rushdie för länge sedan. Utan tillstymmelse till bevis menade den höge vederbörande iranske ayatollah Khomeini att Rushide skulle dö för sitt "brott". Jag återger nedan denna fatwa, att jämföras med säkerhetsrådets liknande "fatwa":
The author of The Satanic Verses, a text written, edited, and published against Islam, against the Prophet of Islam, and against the Koran, along with all the editors and publishers aware of its contents, are condemned to capital punishment. I call on all valiant Muslims wherever they may be in the world to execute this sentence without delay, so that no one henceforth will dare insult the sacred beliefs of the Muslims.

Källa.
Båda dessa uttalanden har tyvärr alltför många stater, folk och individer tagit fasta på, trots att de tycks sakna grund. De är grundlösa eftersom någon grund för dem inte presenterats när de uttalats. Vad är det för internationell lag som Israel brutit mot? Vad är det i Koranen som Rushdie brutit mot? Ingen vet. Men deras brott tycks ändå anses som faktum i vida kretsar. För Israels del bland annat i EU (bortsett möjligen från Ungern) och inte minst hos den nuvarande svenska antisemitiska statsledningen. För som du kan se i länken rörande Svenska Kyrkan ovan, uttalar sig Sveriges utrikesminister som följer:
Utrikesminister Ann Linde (S), som är på resa, låter hälsa att Sveriges hållning är densamma som tidigare, det vill säga att bosättntingar [sic!] strider mot folkrätten och den delar vi med övriga EU.
Men det anser inte längre USA alltså. Tack USA!
Jag påminner mig vad Carlsson i Strindbergs roman Hemsöborna uttalade: "För så är det för det vet jag". Någon bevisning åberopade inte heller Carlsson. Likväl tror jag Carlsson hade mera rätt då (saken rörde fotosyntesen) än vad säkerhetsrådet, EU och Sverige har nu om "bosättningarna".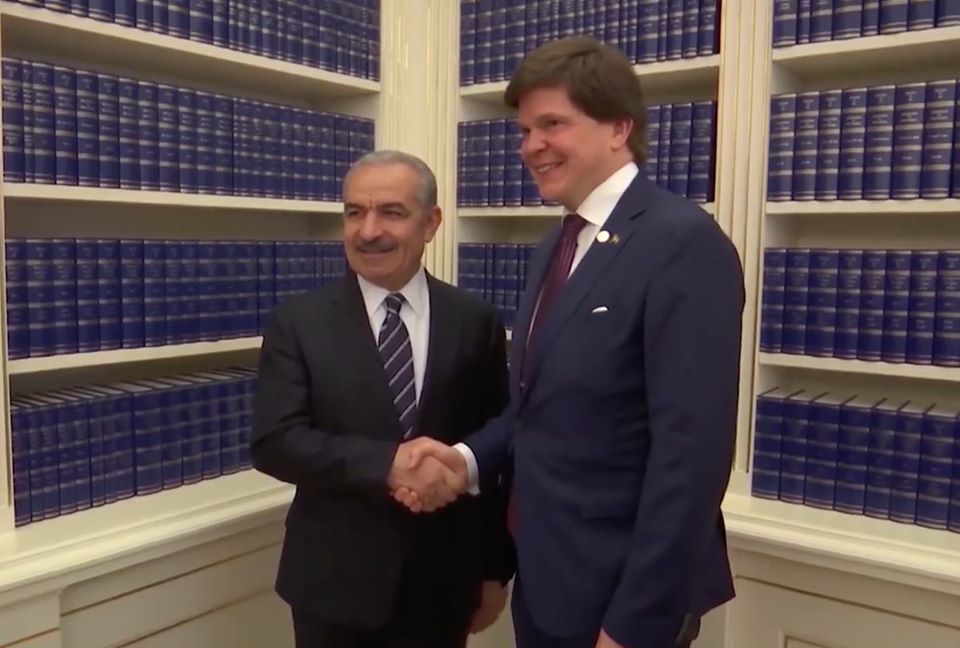 Talmannen i Sveriges Riksdag och "Palestinas" premiärminister.
Noterar slutligen att Sveriges antisemitiska statsledning alldeles nyligen mottagit en företrädare för den på motsvarande sätt antisemitiska "palestinska" statsledningen. Riksdagens talman Andreas Norlén (M) har i detta sammanhang förnedrat sig, dels genom att alls motta antisemit, dels skaka hand med honom. Det är den antisemitiska entiteten "Palestinas" premiärminister Dr. Mohammad Shtayyeh som vänligen mottagits. Skandal är det, nämligen eftersom talmannen därigenom också förnedrat Sveriges Riksdag och genom Riksdagen också Sveriges folk, som valt denna Riksdag.
Sveriges folk kan rimligen inte anses som ett antisemitiskt folk. Men till följd av talmannens huvudlösa agerande reses tvivel om Riksdagen verkligen representerar Sveriges folk. Kanske är Sveriges Riksdag numera att anse som en antisemitisk riksdag? Att Riksdagens talman verkar vara det framstår i vart fall som ganska uppenbart.
Nåja, den nya utrikesministern Ann Linde (S) som tillhör den antisemitiska statsledningen har ju ändå till synes fördömt Hamas i tidningen Världen Idag idag.
Alltid något …