Kommentarer om Israels försvarskrig i Gaza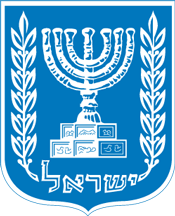 En del hävdar ju att Israels försvarsinsatser mot den islamonazistiska terrororganisationen Hamas, som genom angreppskrig vill utplåna den judiska staten Israel, är oproportionerligt och urskillningslöst, detta emedan alltför många oskyldiga civilpersoner i Gaza fått sätta livet till. Lite ungefär som om det skulle ha varit oproportionerligt av de allierade att så många i den tyska civilbefolkningen fick sätta livet till under det andra världskriget, jämfört med civilbefolkningen i t. ex. USA eller Storbritannien. Ungefär som att den sida, som har de flesta dödsoffren bland civilbefolkningen, ja det är den sida som vi bör "hålla på" och tycka mest synd om.
Med användande av den bisarra logiken borde vi ha låtit Nazi-Tyskland vinna det andra världskriget i Västeuropa och därigenom utplåna såväl Storbritannien, Frankrike, Polen, Danmark som Norge – för att ta några exempel. För de flesta döda i Västeuropa under det andra världskriget var ju tyskar. Med användande av samma bisarra logik, vilken tyvärr förfaller användas av mångahanda svenska partier och organisationer, bör vi rimligen också låta Hamas utplåna Israel!
Nåja, här är i alla fall vad Israels regering säger om dödsoffren i Gaza. Det är långt och på engelska, men jag uppmanar dig likväl att läsa uthålligt, sine ira et studio:
Evidence collected so far about casualties in the Gaza Strip during Operation Protective Edge contradicts claims that the IDF attacks were "indiscriminate" and that the vast majority of those killed were innocent civilians.
(Communicated by the Prime Minister's Office)

1. Discrimination: The evidence collected so far about casualties in the Gaza Strip during Operation Protective Edge contradicts claims made by Hamas and various human rights organizations that the IDF attacks were "indiscriminate" and that the vast majority of those killed were innocent civilians.

2. Age and sex of dead: Findings published in Israel and abroad show that a large number of those killed were armed militants or males of fighting age. They also show that the proportion of young men among those killed is much higher than their relative number in the population.

a. A breakdown of the casualties published by the New York Times, based on figures from the Palestinian Ministry of Health, reveals that of the 1,431 killed during the operation that were examined, the most prominent group consisted of men aged 20-29. The names in this group constitute 34% of those killed, although their proportion of the population is only 9%.

b. Another finding is that women, children under 15 and men over 60, who together constitute 71% of the general population, made up about 33% of those killed.

c. The BBC conducted its own analysis based on the figures of the UN Office of the High Commissioner for Human Rights (OHCHR), which counted 1,948 dead. According to their analysis, three times as many men civilians (709) as women (237) were killed. The BBC counted an additional 226 terror activists who were not included in the number of male civilians. The BBC raised doubts about the accuracy of the claim that the shooting was "indiscriminate", mainly in light of the enormous gap between male and female dead.

d. An analysis performed by CAMERA (Committee for Accuracy in Middle East Reporting in America) of those killed between 8 and 26 July reveals a similar picture. The breakdown of the dead shows that, while the proportion in the population of males aged 17-30 is about 10%, their proportion among the dead was 44%. This population is clearly identified with Gaza's armed militants.

3. To these analyses must be added the examinations and analyses of the Intelligence and Terrorism Information Center (ITIC), which has so far done a breakdown of 300 of the dead. An examination of the names reveals that about 50% of them are known to be terrorists.

Some additional important facts:

• The Hamas-controlled Ministry of the Interior in the Gaza Strip issued an announcement warning the Palestinians not to divulge information about terrorist operatives ("resistance" casualties) killed during Operation Protective Edge and to refer to them as "innocent civilians."

• The numbers of dead come from statistics published by the Hamas-controlled Ministry of Health in the Gaza Strip.

• Various accounts indicate that the Hamas count of the dead includes people who died during this period of natural causes or through domestic violence or who were executed by Hamas as collaborators.

• The IDF estimates that the number of militants among the dead stands at 900 or more.

• IDF figures have in the past proven to be reliable: in Operation Cast Lead, the IDF estimated that 700 of the dead were Hamas members, while Hamas claimed to have only 50 dead. A few years later Hamas admitted that 600-700 of its members were killed in the operation.

References:

New York Times: "Civilian or Not? New Fight in Tallying the Dead from the Gaza Conflict"

BBC: "Caution needed with Gaza casualty figures"

Time: "How Hamas wields Gaza's casualties as propaganda"

Committee for Accuracy in Middle East Reporting in America

ITIC: Preliminary, partial examination of the names of Palestinians killed in Operation Protective Edge and analysis of the ratio between terrorist operatives and non-involved civilians killed in error:

ITIC: Examination of the names of Palestinians killed in Operation Protective Edge – Part Two
Jag tror inte att det som Israels regering har att säga kommer att få så stort genomslag i svensk gammelmedia. Men eftersom även den försvarande sidan i detta krig, nämligen den israeliska sidans företrädare, rimligen är väl värda att lyssna på, oavsett vad svensk gammelmedia tycker, har jag återgivit ovanstående budskap i dess helhet.
I ett annat budskap idag från Israels regering förmedlade man följande bilder, som också är väl värda att titta på och begrunda: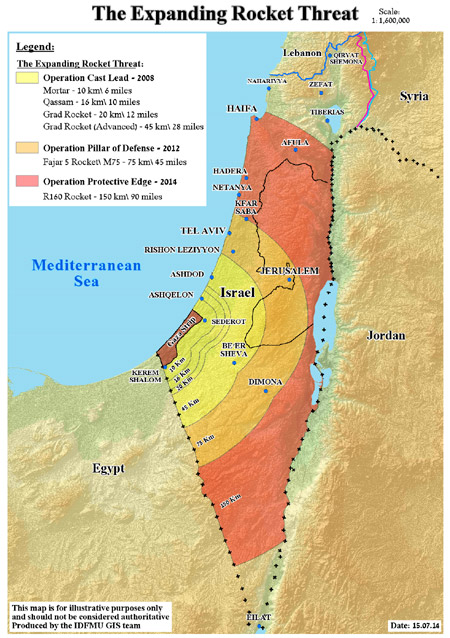 Vi ser ovan att de antisemitiska terroristerna i Gaza allteftersom har fått allt slagkraftigare raketer, vars räckvidd in i Israel har ökat alltmer allt eftersom. Allt eftersom har alltså hotet mot Israels civilbefolkning ökat. Det ökar alltjämt. Som du ser på följande bild hotas numera majoriteten av civilbefolkningen i Israel av Hamas' urskillningslösa angrepps- och utplåningskrig.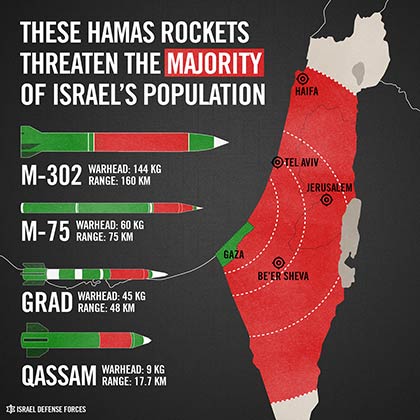 Här ser du också en del av de antisemitiska terroristernas vapenarsenal. Det är inte bara enkla hemmasnickrade raketer gjorda av avloppsrör, som en del tror. Nej, så här är det:
Grad är ett ursprungligen ryskt-sovjetiskt raketartillerisystem där många raketer ursprungligen var avsedda att avskjutas samtidigt från så kallade "salvpjäser". Hamas avskjuter dem dock vad jag förstår oftast en och en och var för sig. Som du kan läsa i länken är dessa raketer ofta tillverkade i Iran och ibland i Kina.
När det gäller M-75 så är det av allt att döma en hemmasnickrad variant av Irans Fajr 5-raket. Man ser dock i länken att även själva det iranska originalet tycks ha används i Hamas' angrepps- och utplåningskrig mot Israel. Så det har alltså av allt att döma lyckats för Iran att föra in angreppsvapen i Gaza, trots Israels vapenblockad. (Vi vet ju att den antisemitiska organisationen Ship to Gaza försöker att bryta Israels legala blockad mot Gaza helt och hållet. – I syfte att underlätta för Irans regim att föra in än mer anfallsvapen i Gaza då eller?)
Så är det då fråga om M-302, den raket/missil i Hamas vapenarsenal som har längst räckvidd hittills. Bortom Haifa till och med. Här skriver JPost om dess verkan.
Denna missil är av allt att döma tillverkad i Syrien under namnet Khaybar-1, men är till synes också av kinesiskt ursprung.
Khaybar är ju då, kan man notera, den ort i den Arabiska öknen där judarna försökte försvara sig mot den islamistiska övermakten, men som de till slut blev fördrivna ifrån …
Kassam-raketerna, slutligen, må vara gjorda av avloppsrör och ha kort räckvidd. Men deras förmåga att, som det heter i den svenska lagen mot terroristbrott, "injaga allvarlig fruktan hos en befolkning eller en befolkningsgrupp" i Israel, ska inte underskattas.
Varifrån avskjuts då alla dessa missiler? Här är en bild som förmedlar den israeliska synen på saken: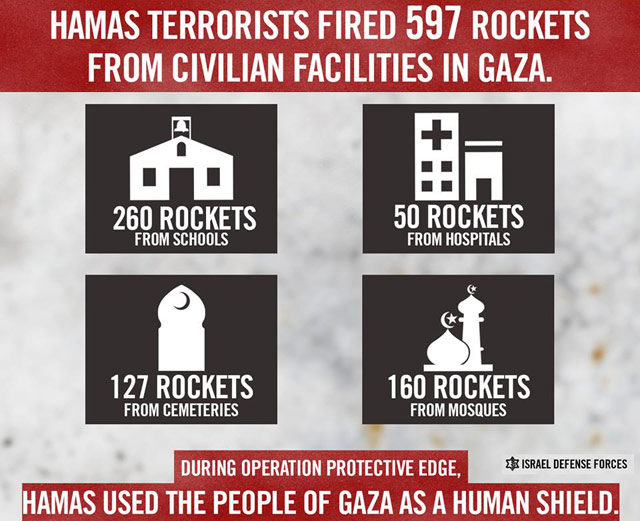 Jag har inte anledning tro något annat än att denna bild är ganska rättvisande. Vad bilden dock inte förmedlar är, hur många raketer som avskjutits från bostäder och bostadsområden i Gaza. De är nog inte så få heller, antar jag.
Så varför anklagas Israel? Israel och judarna där försvarar sig, på samma sätt som jag antar att Sverige och svenskarna här skulle försvara sig om Sverige blev angripet på motsvarande sätt av någon som avser att utplåna Sverige och svenskarna. Israel och judarna står inför hotet att utplånas. Det gör inte Sverige och svenskarna – inte ännu i alla fall …
(Och om du inte har kommit på det än, så kan jag till slut upplysa om att titeln på detta inlägg travesterar Julius Caesars skrift Commentarii de bello gallico.)
Write a comment