Mera om Ship to Gaza i Göteborgs närradio i kväll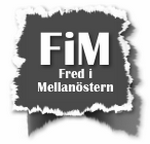 Där kommer Oded Meiri och jag, Lennart Eriksson, att prata bland annat om Ship to Gaza, som inte är ett humanitärt projekt utan syftar till att konfrontera och provocera Israel, och om att svenska staten beviljat inresetillstånd åt terroristen Leila Khaled från PFLP. Det är föreningen Fred i Mellanöstern som står för sändningen, som börjar kl 19.00 på frekvensen 94,9 mHz. Om du inte bor i Göteborg kan du lyssna samtidigt på internet på adressen www.gnf.nu (länk till höger). Programmet läggs senare upp på föreningens hemsida på www.fredimellanostern.se, där du redan nu kan lyssna till många andra intressanta program som sänts tidigare.
Ett annat tips är att se debatten från SvT i morse mellan en Ship to Gaza-provokatör och Siewert Öholm från Samfundet Sverige-Israel. Siewert vann debatten solklart – och hur skulle det annars vara. Israel har ju alla rättfärdiga argument på sin sida:
Uppdatering 110705: Här är länken till närradio-programmet.
Write a comment