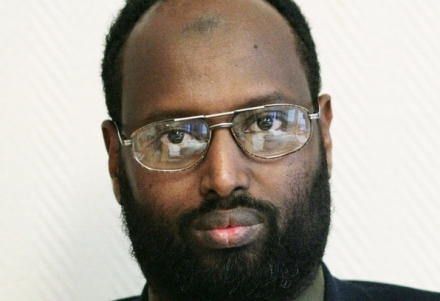 Ja, en sak är i alla fall klar: Han är nyinvald riksdagsledamot för Moderaterna. Han är dessutom alltjämt ordförande för Islamiska förbundet i Sverige, även om han till följd av sitt riksdagsuppdrag avsagt sig ordförandeskapet.
Han står dessutom som undertecknare av följande pressmeddelande den 31 maj i år från Islamiska förbundet, där förbundets syn på de israeliska försvarsåtgärderna mot attacken från det med Israels fiende Hamas nära lierade Ship to Gaza framgår. Det framgår också att Islamiska förbundet självt är en del av Ship to Gaza!
Så här skriver han:
Israels piratverksamhet måste få konsekvenser

Tidigt imorse attackerade den israeliska militären hjälpkonvojen "Freedom Flotilla" där Ship to Gaza – Sverige deltar med ett lastfartyg och 11 svenskar, däribland parlamentarikern Mehmet Kaplan, religionshistoriken Mattias Gardell och författaren Henning Mankell. Den Israeliska attacken skedde på internationellt vatten och resulterade i ett tiotal döda och ett 30-tal skadade enligt initiala uppgifter från media.

Angreppen bryter mot internationell lag och är en tydlig markering från Israel att man tänker fortsätta med sin apartheidisolering av Gazaremsan till varje pris. Israels ständiga nonchalerande av internationell lag och grundläggande mänskliga rättigheter måste få ett omedelbart stopp. Vi förväntar oss att den svenska regeringen och övriga EU vidtar omedelbara åtgärder för att bryta blockaden och bestraffa Israel för sin piratverksamhet på medelhavet.

Ett sådant flagrant angrepp på 750 civila av olika nationaliteter från hela världen, ombord på de europeiska fartygen mot Gazaremsan, är en mycket farlig utveckling i tåget av nakna israeliska kränkningar. Det är ett bloddränkt budskap från den israeliska ockupationen på hela världen som motsvarar dess fullständiga och totalt förakt för humanitära konventioner, internationell rätt och normer. De israeliska myndigheterna har agerat som skurkstat över lagen.

Islamiska Förbundet i Sverige, som är en del av Ship to Gaza, kommer att demonstrera och protestera tills båtarna, med last och passagerare, släpps fria och tills den inhumana blockaden mot Gazas befolkning stoppas.

Abdirisak Waberi
Ordförande,
Islamiska Förbundet i Sverige
0707539448

(Källa: Islamiska förbundet)
Waberi upprepar här nästan samtliga de slagord som den anti-israeliska lobbyn, vanligen bestående av kommunister, nazister och islamister, använder sig av i syfte att medelst krigföring, lagföring och pennföring angripa Israel för att delegitimisera och utplåna landet, den enda demokratin i Mellanöstern, det enda land i världen som judarna kan kalla sitt.
För det första skriver han att Israel var angriparen. Men att, som Ship to Gaza gjorde, bryta en legitim sjöblockad i syfte att gå Israels fiende Hamas tillhanda, måste anses vara om inte en direkt attack mot Israel, så åtminstone en grov provokation.
För det andra skriver Waberi att Israel nonchalerar och bryter mot internationell lag. Kanhända ibland, men uppenbart inte i fallet Ship to Gaza. Och hur mycket nonchalerar och bryter Hamas mot internationell lag, när man bland annat under hänvisning till den antisemitiska förfalskningen Sions vises protokoll, avser att just utplåna judarna och den judiska staten – något som står i uppenbar motsättning till Förenta Nationernas stadga som säger att stater ska förhålla sig till varandra som "goda grannar". Sina grannar vill man inte utplåna. Men Waberi kanske vill?
För det tredje menar han att Gaza är föremål för en "apartheidisolering". Apartheid är något som tillämpades i det gamla Sydafrika för att hålla de svarta separerade från de vita. Men många araber är medborgare i Israel. Mycket få judar är medborgare i arabstaterna. På Västbanken drabbas man till och med av dödsstraff om man säljer mark till judar. Men Waberi kanske tycker att det är i sin ordning.
Vilken av Israel och arabstaterna som mest står för apartheid eller etnisk rensning är alltså ganska klart. Israel har visserligen självt nyligen hjälpt Hamas med den etniska rensningen av judar från Gaza, fast i övrigt är det nog oftast arabstaterna själva som stått för denna "apartheidisolering" av judarna. Men Waberi kanske tycker att det är i sin ordning.
För det fjärde menar han att Israel är en "skurkstat" och tror att Israel ockuperar någonting i "förakt" för "humanitära konventioner, internationell rätt och normer".
Men Israel ockuperar ingenting, utom möjligen Golanhöjderna och de s.k. Shebafarmerna, som ingen vet vem de egentligen tillhör.
Den så kallade Västbanken är ett omtvistat territorium som ingen erkänd stat gör anspråk på. Israel har som sagt sparkat ut judarna från Gaza, samt erbjudit palestiniernas dåvarande ledare Yassir Arafat motsvarande mer än 99 % av Västbanken + områden inne i Israel i utbyte mot fred. I stället för att anta detta generösa erbjudande startade Arafat den andra intifadan. Enligt nya uppgifter, som givetvis inte återgivits i svensk press, bad Arafat Hamas om hjälp för att attackera Israel, medan han samtidigt påstod sig vilja stoppa våldet. Det vanliga dubbelspelet alltså. Det vanliga föraktet mot Israels rätt att existera. Men Waberi kanske tycker att det också är i sin ordning.
Denne man är alltså numera riksdagsledamot för mitt parti, Moderaterna. En av mina belackare har tidigare påstått att Moderaterna var ett "apart" parti. Med Abdirisak Waberi i Riksdagen rör man sig onekligen i den riktningen.
Dessutom har ju Carl Bildt tyvärr tillåtits kvarbli i uppgiften som Sveriges utrikesminister. Denne Bildt som kallade Israels legitima försvarsinsatser mot Ship to Gaza för "ett fullständigt oacceptabelt israeliskt övervåld".
Bildt och Waberi tycks vara ganska överens i den delen alltså.
Nu återstår att se hur överens Moderaterna och Waberi är om den islamiska lagen, sharia. Du vet den lag som Europadomstolen för mänskliga rättigheter har funnit vara oförenlig med demokratins grundläggande principer. Både Svenska Dagbladet och Göteborgs-Posten har skrivit om honom och GP särskilt om hans märkliga uttalanden om månggifte och mannens sharia-rätt att aga sin hustru.
SvD skriver att Waberi inte kallar sig islamist. Det må vara hänt, men Lars Ohly kallar sig inte heller för kommunist, trots att han är ledare för ett tidigare stalinistiskt parti. Vad de i verkligheten är, ja det vet vi nog inte riktigt. Inte heller på Waberis hemsida framgår det vad han egentligen anser om sharia.
Vissa dubiösa bloggar har också ett och annat att säga, t. ex. Varjager's Weblog.
Jag kan slutligen bara säga att om Waberi visar sig vara islamist och trots det tillåts vara medlem i det Moderata Samlingspartiet, ja då kan Moderaterna inte längre räkna med mig som medlem.
Och om det enligt senaste opinionsmätning största partiet i Sverige tillåter en islamist vara medlem, dvs. en person som vill införa den islamiska lagen, en lag som enligt Europadomstolen för de mänskliga rättigheterna är oförenlig med demokratins grundläggande principer, vad säger det då om tillståndet för demokratin i Sverige?
Hans Majestät Konungen förklarade i Riksdagen i dag att den svenska demokratin vilar på en stabil grund.
Vi kan bara hoppas att de som röstat på Waberi, det Moderata Samlingspartiet och inte minst Waberi själv inte vill underminera den grunden. Det är det bara de själva som vet. Det är bara de själva som kan bringa klarhet. Klarhet i att demokratins principer är grundläggande.
För närvarande svävar vi alltså i ovisshet om vad såväl Moderaterna som Waberi vill. Denna ovisshet är besvärande såväl för Waberis men inte minst för Moderaternas demokratiska trovärdighet.