Nytt från Storbritannien: "Islamic Emirates Project"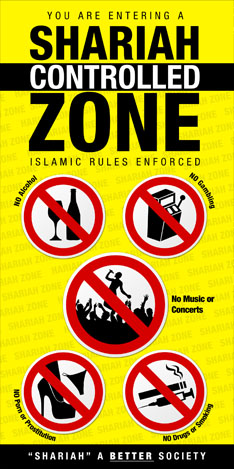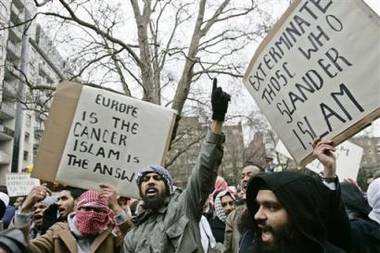 Medan många i media i Sverige idag försöker göra idén om det islamistiska övertagandet av västerlandet till en islamofobisk villfarelse hos högerextremister och en viss norsk terrorbombare (247 sökresultat på Google Nyheter på "islamofobi Breivik" – men alla driver nog inte denna linje hoppas jag), läser jag i Hudson New York en artikel av Soeren Kern just om en islamistisk idé att göra flera städer i Storbritannien till islamiska emirat, styrda av den islamiska lagen, sharia. Bland annat gäller det vad islamisterna själva kallar "Londonistan", men även ingår Birmingham, Liverpool och Manchester i detta "koncept".
Detta kan inte rimligen avfärdas som ett utslag av islamofobi, och villfarelsen är denna gången inte högerextremisternas utan islamisternas. Det är islamisterna själva som hittat på det, nämligen.
Denna gång uppträder de i skepnad av sekten "Muslims Against Crusades", dvs. Muslimer mot korståg. Huvudnyheten på deras hemsida är i skrivande stund att "kristen terror slår till i Norge".
Jag citerar här från Kerns artikel där han i sin tur citerar ur islamisternas tanke(?)värld på följande sätt:
"In the last 50 years, the United Kingdom has transformed beyond recognition. What was once a predominantly Christian country has now been overwhelmed by a rising Muslim population, which seeks to preserve its Islamic identity, and protect itself from the satanic values of the tyrannical British government.

"There are now over 2.8 million Muslims living in the United Kingdom – which is a staggering 5% of the population – but in truth, it is more than just numbers, indeed the entire infrastructure of Britain is changing; Mosques, Islamic Schools, Shari'ah Courts and Muslim owned businesses, have now become an integral part of the British landscape.

"In light of this glaring fact, Muslims Against Crusades have decided to launch "The Islamic Emirates Project," that will see high profile campaigns launch in Muslim enclaves all over Britain, with the objective to gradually transform Muslim communities into Islamic Emirates operating under Shari'ah law.

"With several Islamic emirates already well established across Asia, Africa and the Middle East, including Iraq and Afghanistan, we see this as a radical, but very realistic step in the heart of Western Europe, that will inshaa'allah (God willing), pave the way for the worldwide domination of Islam."

One of the group's strategy documents, "Islamic Prevent 2011: Preventing Secular Fundamentalism and the Occupation of Muslim Land," provides insights into the religious and/or philosophical mindset behind the Islamic Emirates Project. For example, Chapter 1 states: "The Only Identity for Muslims is Islam … In no shape or form can a Muslim support any form of nationalism such as promoting Britishness."

Chapter 4 states: "A Muslim can only abide by Sharia and is not allowed to obey any man-made law." Chapter 5 states: "Muslims must reject secularism and democracy," terms which are "completely alien to Islam and against the basic tenets of Islam." Chapter 10 states: "Every Muslim must call for Sharia to be implemented wherever they are." Chapter 12 states: "It is not allowed for Muslims to integrate with a non-Islamic society." Chapter 13 states: "Muslims should set up Islamic Emirates in the United Kingdom." Chapter 14 states: "Any Muslim who opposed the policies in this pamphlet should be confronted." Chapter 16 states: "Any Muslim who has been affected by the Western way of life need to be rehabilitated."
Islamic Prevent 2011 kan du ladda ned härifrån (pdf). Ursprunget är denna sida.
Man kan säga och skriva mycket om detta, det har jag redan gjort. Du ser i alla fall att demokrati det är inget för islamister. Du ser också att de eftersträvar världsherravälde under den islamiska lagen, den lag som enligt Europadomstolen för mänskliga rättigheter i Strasbourg är oförenlig med demokratins grundläggande principer.
Men de är väl islamofober i Strasbourg också, kantänka …
Jag konstaterar hur som helst att den häktade Breivik han ska sinnesundersökas. Vad som sker med de ännu ej häktade islamisterna förblir oklart.
Här är slutligen en film från organisationens presskonferens i går den 31 juli, som tar sin utgångspunkt i händelserna i Norge, och som du kan höra är målet att islam och sharia ska behärska världen, och att sharia inte kan stoppas i Europa.
Fotnot: Affischen överst t.v. påstås på fullt allvar ha använts i Storbritannien av den numera olagligförklarade organisationen Islam4UK, en föregångare till Muslimer mot korståg. Här är en länk till fler bilder än den t. h. ovan på vad islamisterna i England hade för sig för ett tag sedan.
Tillägg 2011-08-08: Arutz7 skriver mera om detta.
Länkar: SvD, DN, Sveriges Radio.
Write a comment